---
I'm ready to start year from zero, says Nadal - cyrano - 01-14-2009 09:47 AM

By Rhys Jones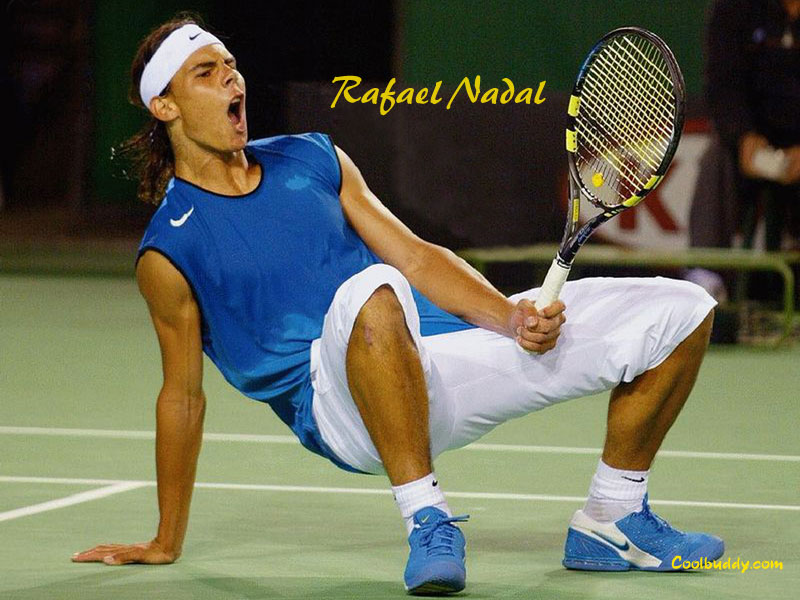 DOHA, Jan 14 (Reuters) - Rafael Nadal has begun the new year feeling no pressure after a sensational 2008 season.
"I don't feel like I have to defend anything and I start this year from zero again. I'm 22 years old and have won five grand slams, 12 Master Series titles, an Olympic gold medal and I'm world number one -- that keeps me calm," Nadal told Reuters in an interview ahead of next week's Australian Open.
"Seven years ago if somebody had said to me you will win those titles over your career I would have signed for it immediately."
During the past 12 months, the Spaniard lifted his fourth successive French Open crown, ended Roger Federer's five-year reign as Wimbledon champion, won Olympic gold in Beijing and climbed to the top of the world rankings.
Nadal's dream year came to an abrupt end, however, when he was sidelined with tendinitis in his right knee.

Despite that setback and a slow start to the 2009 season, Nadal is not worried about defending his titles or ranking points.
"I've won the Olympics and at Toronto, Madrid, Montreal and Indian Wells on hard courts. They are all big tournaments and I beat the same people I'm playing in the slams at these tournaments," said Nadal.
"I will continue to fight, improve and try and get to the final in Australia and try to win."
While Nadal became the first man since Bjorn Borg in 1980 to complete the Roland Garros-Wimbledon double in the same year, the fact remains that he has never progressed beyond the semi-final of a hardcourt major.
Nadal, who lost in the last four at the 2008 Australian and U.S. Opens, said his past successes on hard courts were proof that he could break his duck on Melbourne Park's Plexicushion surface.

Nadal's 2008 will perhaps be best remembered for the match, described by pundits as the greatest ever seen, when he punched a mighty hole through Federer's aura of invincibility by beating his Swiss rival in the longest and most nerve-jangling final at Wimbledon.
The Spaniard survived two rain breaks and an astonishing Federer fightback to claim a sensational 6-4 6-4 6-7 6-7 9-7 victory as dusk fell over the All England Club in early July.

SWEETEST VICTORY
However, it was last June's French Open triumph which was Nadal's sweetest victory of the year. The irrepressible Spaniard enhanced his reputation as arguably the greatest claycourt player when he swept aside Federer with embarrassing ease, dropping only four games.
"All the people talk about Wimbledon but maybe they forget about Roland Garros, which was an amazing tournament for me because I played my best tennis there last year," he said.
"Winning Wimbledon for the first time in such an incredible final against Roger was special but Roland Garros was very important for me."
His season ended prematurely when he was forced to retire from the Paris Masters in late October with the knee injury, which ruled him out of the Masters Cup and Spain's Davis Cup final victory in Argentina.
"Spain has a very good team whether I am there or not but it was tough to miss the final. At the same time I was happy for the guys and for myself because I played in the quarter and semi-finals," added Nadal.
Although he said having an injury "is never good", Nadal was glad that he had time to spend with friends in Mallorca, improve his golf and enjoy some fishing during his enforced break.
Despite a slow start to 2009, highlighted by defeats to Andy Murray and Gael Monfils at Abu Dhabi and Doha, Nadal believes it will not be long before he rediscovers his best form.

"I was out of competition for 2-1/2 months but have trained hard and hope to find my best level as fast as possible. I feel if I find my best tennis I always have a chance to win important tournaments and hopefully that will start in Australia," he said.
With Novak Djokovic and Murray now pushing Nadal and Federer hard, the Spaniard was looking forward to a new golden age in tennis.
"It was great when Pete (Sampras) and (Andre) Agassi were around and for the last few years it's been fun with the rivalry between Roger and me but now there are a few more young guys around, which will make it a very, very interesting season," said Nadal.


---